PINKY RING™ WAX RING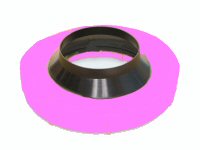 The quality toilet seal that funds cancer research
Our mission is to provide quality plumbing products and donate half of our profits to
a worthy cancer organization.
We believe that each of us can help create a better, healthier, happier world by choosing to do something good. Each PINKY RING™ WAX RING you purchase helps fight cancer, save lives and support cancer patients.
Until now, there was little reason to choose one toilet wax ring over another. They all provide a similar function. Now you have a choice. The PINKY RING™ WAX RING is a high quality product that will provide the best toilet seal and also fund cancer research. Each PINKY RING™ WAX RING you purchase will help a worthy cancer organization continue their efforts to find a cure and to save lives!
We donate 50% of our profits as a leader in support of this very important and worthy cause.